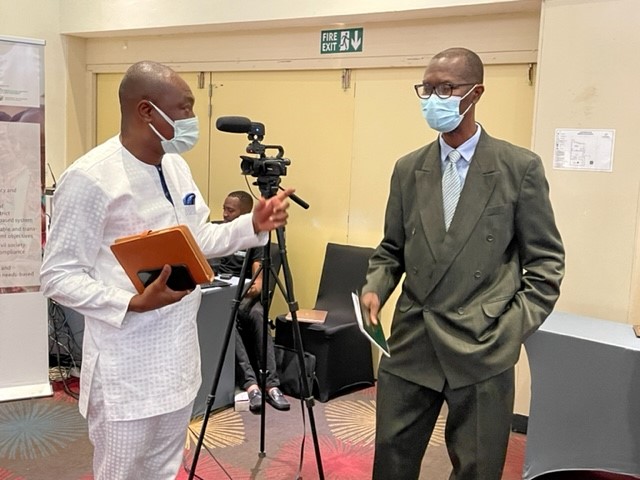 CEO OF MINERALS COMMISSION ADDRESS "GHEITI" 2019 EXTRACTIVE SECTOR REPORT LAUNCH EVENT
The 2019 Extractive Sector (Mining, Oil & Gas) report by the Ghana Extractive Industry Transparency Initiative (GHEITI), has been launched in Accra at Alisa Hotel under the auspices of the Ministry of Finance and the GHEITI secretariat.
In his opening remarks as a special guest, Mr. Martin K. Ayisi commended the work of the Multi-Stakeholder Group (MSG) and hailed GHEITI for the impact it is making in the extractive sector. He urged the GHEITI Secretariat and the MSG to take interest in the processes and nature of agreements adopted between licensed operators and the government. Siting the mining agreements as an example, he called on GHEITI to court public interest and participation in the processes leading to the signing of these agreements. He further encouraged GHEITI to advocate for the publication of such contracts to enhance transparency and accountability. This he opined is one of the surest ways to protect the public purse and increase revenue to support the country's development. He indicated that with the amendments to the mining laws in the offing the Development Agreement will be a thing of the past whilst the Stability Agreement has been proposed for a maximum of 5 years. He challenged GHEITI to go beyond mere advocacy for disclosure by institutions to publish agreements, which are the basis for generating government revenue and receipts.
In attendance at the launch was the Deputy Minister of Finance, Hon. John Ampontuah Kumah (MP), Mr. Benjamin Aryee, Special Advisor to the Minister for Lands and Natural Resources Deputy Minister of Energy, Hon. Dr. Mohammed Amin Adam (MP) and GHEITI Champion, and Mr. Philipp Stalder, Switzerland Ambassador to Ghana, Togo and Benin.
Mr. Ayisi highlighted the progress made in respect of Local Content and Local Participation and ongoing efforts at enhancing and building the capacity of indigenes to ensure full participation in the mining sector. He further explained that Localization Plans are required of mining companies in respect of the engagement of indigenes. He indicated that the Local Content Procurement List has been increased from 29 to 41 items to broaden indigenes participation in the industry.
GHEITI is the Ghana Chapter of the Extractive Industry Transparency Initiative (EITI), headquartered in Oslo, Norway, with the main objective of working with 55 member countries to improve transparency and accountability in the extractive industry (mining, oil, and gas sectors).